We've got some great news folks.  PaperFilms own Justin Gray, along with the editorial genius of Joanne Starer, has launched a brand new KICKSTARTER project for his all ages novel THE ADVENTURES OF PENELOPE HAWK.  This is a fantasy fiction novel that is 300-page novel features a strong 11-year-old female protagonist and is a book BOYS, GIRLS, and GROWNUPS can enjoy.  With an amazing cover by collaborator MAIKE PLENZKE, the story takes the reader on a journey through the fantastical world of Marazia, the place all children go each night to dream.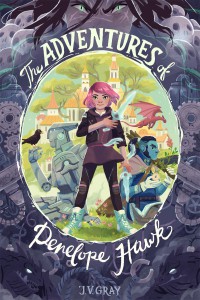 The story contains explosive action; fantastic locations governed only by imagination, strange and beautiful creatures, Warrior Princesses, scary monsters, a magician specializing in horticulture and so much more. The characters are lively, funny, sweet, sour, and the villains are, well, villainous.
There are several tiers available for backing in this campaign.  Be sure to head on over and check out the campaign:
THE ADVENTURES OF PENELOPE HAWK will take readers on a journey through the fantastical world of Marazia, the place all children go each night to dream.  
Penelope lives in Reedville, New Mexico; a place once voted the most boring town in America, but when Lord Tasm, King of Nightmares kidnaps her mom and puts the entire town under a spell, Penelope discovers that she's the only person who can save them. 
So Penelope embarks on an epic and action-packed adventure, joining forces with a dragon, a robot, a magician and seven Warrior Princesses to stop the Nightmare King and his army of monsters.
In Anaheim on 10/28 – 10/30?  Head over to the Stan Lee's LA Comic Con and meet Jimmy and Amanda at the show!  More information can be found at the convention website (http://www.stanleeslacomiccon.com/)!
Additionally, to help celebrate the new Kickstarter plus the great season, we're running a website sale of 25% off all items from now till 10/29.  Enter "HALLOWEEN" at checkout for your discount!
We hope you get the chance to back the new Kickstarter by Justin and support creators alike!
Thanks everyone,
The entire PaperFilms team.