Yes, yes, it is spring time. When the cold days are winding down, the snow is supposed to be leaving and the hot temps are kicking back in and the short shorts are getting broken out. Well, maybe just for Jimmy on the short shorts but you know….he is a fan of them. Meanwhile, that's not the only thing kicking back in. That's right, the comic convention season is kicking into gear and the PaperFilms team has a heavy workload the first part of the year. We will be limited on our appearances this year so we are hoping to participate in a show you can attend. Below is a list for the team through May 2017 where you might be able to catch the team.
Conventions!
Planet ComicCon in Kansas City [April 28th – April 30th]:
Appearing for PaperFilms is: Amanda Conner, Jimmy Palmiotti and Frank Tieri
More info at: http://planetcomicon.com/
Mexico City (FCBD) [May 5th – May 7th]:
Appearing for PaperFilms is: Amanda Conner and Jimmy Palmiotti
Details to be announced later.
MegaCon Orlando [May 25th – May 28th]:
Appearing for PaperFilms is: Amanda Conner, Jimmy Palmiotti, Paul Mounts and Frank Tieri
More info at: http://megaconorlando.com/
Projects, projects and more projects!
Have you been keeping up on the latest in Harley Quinn entertainment? Hopefully you are, however if you aren't, Harley Quinn 17 is a great jumping on point. This arc not only features amazing art by John Timms, this also starts including new Harley Quinn stories co-written by Harley's co-creator himself, Paul Dini. That's right, Jimmy and Amanda worked hard to tie Paul down and jam a keyboard in front of him to craft some wonderful stories with Jimmy. These are pure fun and you need to pick them up. Head to your local store and snag some copies.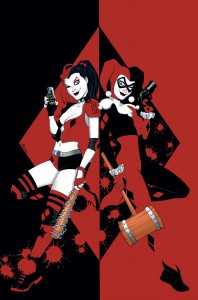 Website sale you say!
Hey, I can't make a convention. Where can I get signed items from the team? Who do you people think you are? Well, the answer to all those conventions are (in no particular order): Here. Sorry we can't make them all. Frank told us never to leave witnesses.
We know we can't make all the locations for conventions given all the current projects we have going on (and some amazing upcoming projects we can't talk about yet, so we try our best to put as much as we can online for everyone for options. And just to show you we aren't trying to cheat anyone, we are putting a 25% store wide sale on right now. That's right, simply enter: CONVENTION at checkout and get 25% off your order (shipping not discounted). That's right, 25% off. Jimmy is crazy like that, he's just giving money away! 🙂 No, really….not giving money away since you know, Amanda could tar and feather him for that….but she will let him give discounts just to get things out of the office.
So head on over to the store https://www.paperfilms.com/shop/. Save 25% on all items. We've got some extra Harley Quinn signed trades and hardcovers, some Amanda Conner mini-print sets, copies of the newly optioned Pro graphic novel and of course, all of our signed Kickstarter trades available. We love sharing these things with you. Not only do we help get you the items you are looking for, it does help fund new projects folks. We really do re-invest in ourselves to give you more great options for the future. So please, give us a try. Hopefully you find some items you're willing to support us on!
https://www.paperfilms.com/shop/
Can't thank everyone enough!
The entire PaperFilms team