Whew…..we are exhausted folks.  But that exhaustion is in a good way.  We just wrapped up a wonderful Baltimore Comic Con where we saw a ton, ton of great PaperFilms fans.  The lines were long (sorry, we tried to work through them as quick as possible), the fans were great, cosplay was wonderful and the panels were truly memorable.  If anyone was there and has some pictures from the booth or the panels (specifically the Listen To Jimmy panel), we'd love for you to share them.
Now that we're back for a short time while we get some work done, we're also preparing for the massive New York City Comic Con (http://www.newyorkcomiccon.com/).  The team has the following schedules:
Jimmy Palmiotti (table DD09):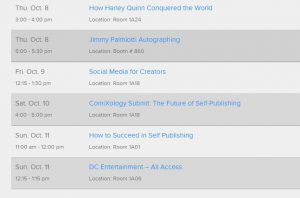 Amanda Conner (table DD10):

Frank Tieri:

And if you haven't heard the exciting news, at the end of the year, Jimmy and Amanda will be writing with Amanda on art for the Harley Quinn & Wonder Woman The Little Black Book to launch the new Harley Quinn team up series.  This book is gonna be a ton of fun.  Here is a look at the cover by Amanda for the series launch title.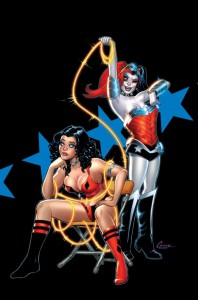 And speaking of the Shop, we'll be posting some great new items that we have a limited amount of on our website.  We have a limited amount of great PaperFilms trading cards as well as some Retailer Exclusive copies of our new Trancers book for Action Labs.  We have a limited amount but wanted to share with all our great fans!  So keep an eye out for the upcoming additions.
Thanks again everyone for the wonderful support!!!