Wow, it has been a thrilling week for the entire PaperFilms team! We've got several announcements that came out this week, so we wanted to share the great news with all of our fans.
First, we have partnered with Phicen Limited and Executive Replicas to create an incredible Jimmy Palmiotti and Joe Quesada creation: Painkiller Jane 1/6 statue based on the amazing artwork of Amanda Conner. The detail on this statue is amazing. It has gone through several sessions with the team to craft the final version. She's exactly what we envisioned this character to be. We hope you agree, this is truly a special result! Here are some images of the statue:
The 1/6th statue will come with:
Packing List:
-Head sculpt
-Phicen New female seamless body with stainless steel armature
-3 Pairs of interchangeable hands
-Tank top
-Battle shorts
-Pair x glasses
-Necklace
-Belt w/ 2 holsters for .45 pistols & w/ dagger sheath
-Pair of bracelets with rivet decoration
-Pair of bracelets with beads
-Dagger
-2 .45 pistol
-Double-barreled shotgun
-Bikini top w/ skull patterns
-Bikini bottom w/ skull pattern
-Pair of trousers
-Faux leather trench coat
-4 Long pieces of bandage
-2 Adhesive bandage of strip shape
-2 Adhesive bandage of cross shape
-Pair of boots
-Base
-4 Color packaging
Shipping Weight: 3.50 pounds
It is a beauty for sure. If you are interested in ordering, there is one store that is listing this already: http://www.bigbadtoystore.com/bbts/product.aspx?product=PHC10104&mode=retail)
Next, our very own Justin Gray has launched a new Kickstarter for his project Jail Bait & Trailer Trash! This is a 64 page graphic novel in the theme and approach of our previous Sex and Violence projects.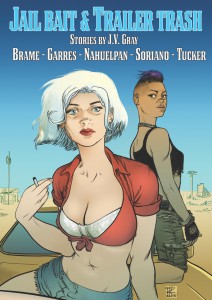 SUBURBAN INFIDELS is a darkly humorous tale of a middle-aged son taking custody of his estranged mother's remains and coming to grips with her mental illness and the darkness of their shared past.
In AN OBSCURE AND VANISHING TRIBE, a racist & misogynistic alcoholic named Ben tries to play cupid to a Korean American bartender in love with his African American co-worker.
The titular story, JAIL BAIT & TRAILER TRASH is a high octane teenage lesbian, spaghetti western set in the modern world.
You can back this project on Kickstarter at: https://www.kickstarter.com/projects/jvgray/jail-bait-and-trailer-trash-a-mature-comic-book-gr
To add to the above thrilling news, our own Frank Tieri is launching a captivating new series from Aftershock Comics entitled Pestilence with Oleg Okunev on art. This mini-series is scheduled to launch in May, the series revisits the Black Death epidemic from the 14th century and postulates that it was the first zombie infestation.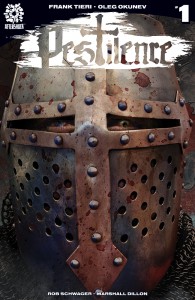 Frank has a great article on the book at Newsarama: http://www.newsarama.com/33294-was-the-black-death-a-zombie-plague-frank-tieri-asks-that-in-pestilence.html
Finally, we've restocked some of the items in our PaperFilms store and have added some cool new Amanda Conner Harley Quinn mini-prints (seen below). So be sure to head on over to the website store and check out the new items: https://www.paperfilms.com/shop/
We truly appreciate all of your wonderful support for the team and their projects. We hope you continue to follow with us as we charter through these new endeavors!