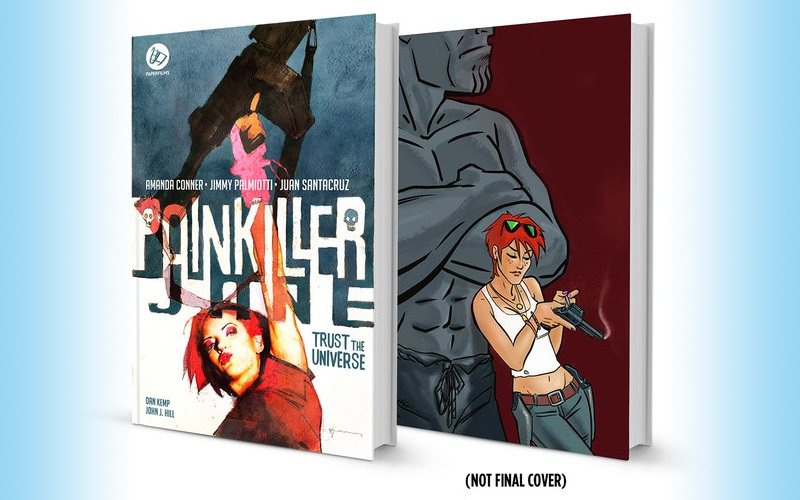 Our BRAND NEW Painkiller Jane graphic novel Trust the Universe is up on Kickstarter through May 16th!
Featured in this book, Jane teams up with the monster that patrols the streets at night, THE MONOLITH as they investigate a chain of missing children that leads them to a multi-state human trafficking ring. The MONOLITH was a character that Justin Gray and I created for DC Comics years ago and since then the rights have reverted back to us and this is the first time we have seen the character since the series ended way back when.
ThIs is a hardcover original graphic novel that features a BRAND NEW 44 page Painkiller Jane story written by the award winning AMANDA CONNER and JIMMY PALMIOTTI -featuring the art of JUAN SANTACRUZ with colors by DAN KEMP and design and lettering by JOHN J HILL.
Also included with this hardcover edition is an pin up gallery showing some past covers and some NEW original pieces by AMANDA CONNER- RICK LEONARDI-MIKE AVON OEMING and more- as well as a 22 page done -in -one reprint story written by Jimmy featuring art by STEVE MANNION and PAUL MOUNTS simply called ' Monster' This story features nudity and language- so beware.
Thats over 66 pages of story plus a boatload of pinups, covers and unseen art totaling over 80 pages of PAINKILLER JANE goodness. Eventually we plan to publish the book elsewhere for retailers with a different cover and contents, but till that time in the future, it will only be available here for our Kickstarter supporters!